SHADOWLESS: IN TRANSIT
A hybrid fiction-documentary film about a traveller whose shadow wants to make itself independent upon arrival in Germany. Facing it and gazing at the shadow with the help of his video camera, memories and flashbacks cut rhythmically into the travellers records of the present untill a remix of his past and future occurs. All this in an in-between space, in a non-place, 'In Transit'.
As part of the film program
A SENSE OF PLACE
In the collective documentary programme 'A Sense of Place', the six Iranian filmmakers Afsaneh Salari, Shirin Barghnavard, Mina Keshavarz, Mohammad Reza Farzad, Azin Feizabadi and Pooya Abbasian take a contemporary look at both life from the inside and existence on the run from Iran. The programme is created by producer Afsun Moshiry in partnership with The Wim Wenders Foundation, and the films have been developed in close collaboration with Wim Wenders and Hella Wenders.


2023, 24"
Formats: DCP, Quicktime
Versions: Farsi, English

WRITTEN & DIRECTED BY
Azin Feizabadi

DIRECTOR OF PHOTOGRAPHY
M. Francisca Sáez Agurto
Azin Feizabadi

EDITED BY
Azin Feizabadi
Anika Grützmacher

SOUND DESIGN BY
Florian von Keyserlingk

PRODUCTION & DIRECTOR ASSISTANT
Matti Ulrich

PRODUCED BY
Afsun Moshiry / Road River Films
Hamidreza Pejman / Pejman Foundation

CO-PRODUCED BY
Baptiste Bertin / LA Onda Productions
Jens Maier-Rothe / Iconoclast

PROJECT CONSULTANT
Wim Wenders
Hella Wenders

SOUND CONSULTANT
André Rigaut

ASSOCIATE PRODUCER
Anne Winkler

COMMISSIONED BY
Deutsch-Französischer Kulturfonds

SUPPORTED BY
Martin Maurer

Stiftung Kunstfonds NEUSTART KULTUR 2020 & 2022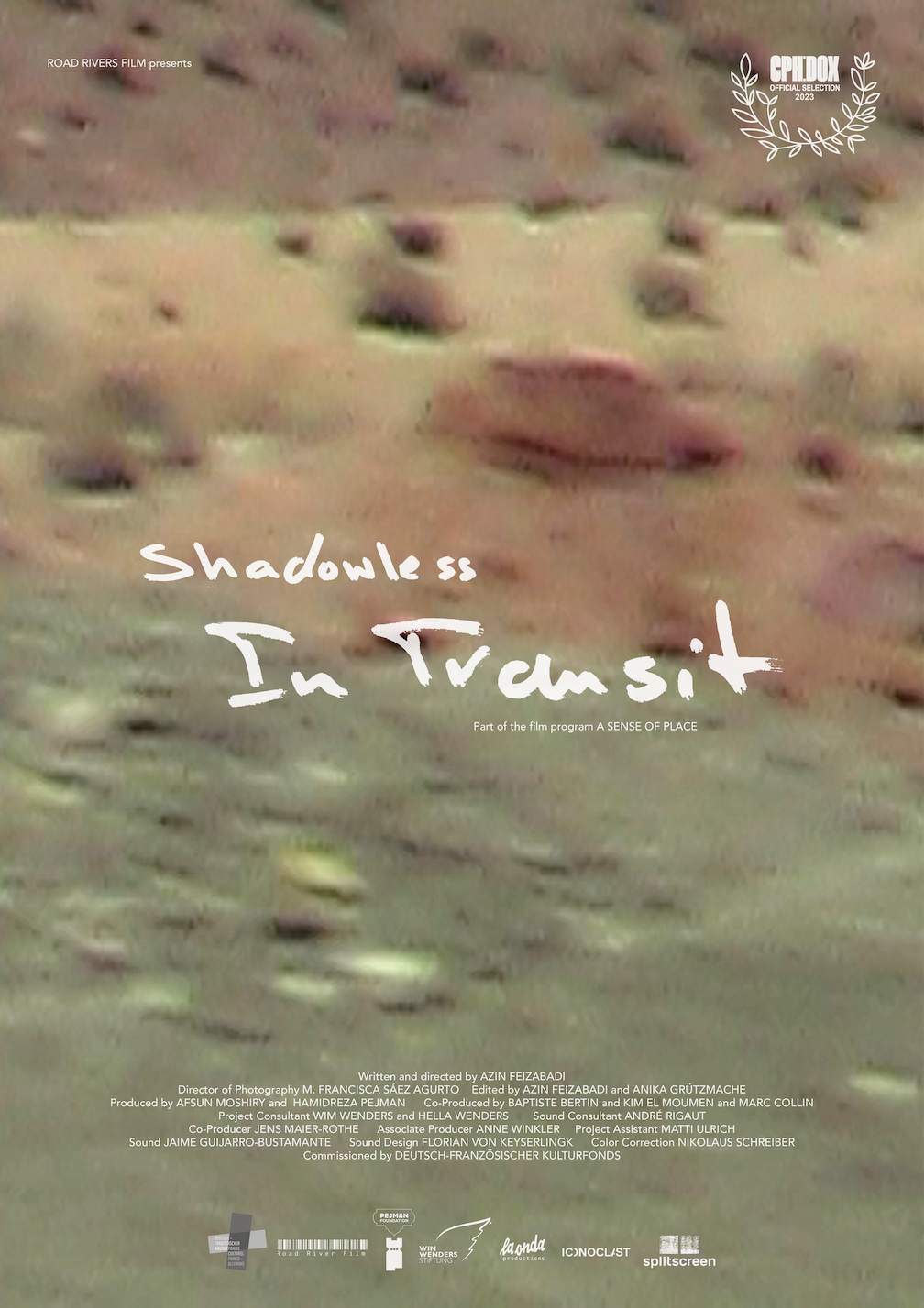 Related articles:
Iran is slipping through our fingers,
DESISFILM
, 2023, José Sarmiento Hinojosa
Wim Wenders Tells Young Filmmakers: 'Trust in a Place Is Something That Can Give You Wings',
Vareity
, 2023, Lise Petersen
Wim Wenders, Afsun Moshiry Unveil Six Iranian Docs At CPH:DOX As Iran's Regime Continues Crackdown On Filmmakers!,
DEADLINE
, 2023, Mathew Carey