UCHRONIA Extended - Taxispalais
Four-channel film installation, total length 90 min. (loop)

In his four-channel film installation Uchronia, Azin Feizabadi simultaneously relates three updates of a tragic love saga from the Middle East: The legend of Layla and Majnun, put into writing for the first time in the 7th century, lives on in numerous literary, artistic and musical variations stemming from various epochs up to the present day. Layla and Majnun are lovers, but society does not allow them to be together. This refusal makes Majnun ("Madman") lose his mind.

Feizabadi's work starts with a prologue in the lower foyer. We learn that in its three cinematic adaptations shown in the hall, Layla and Majnun were dark matter hoping to be able to live their love on Planet Earth, more precisely, in present-day Berlin. But their human embodiment is, of course, accompanied by concrete bodies marked by social history and stories. Feizabadi integrated the life stories of his three Majnun actors, none of whom are professionals, into the traditional legend. The adaptations of the saga thus make it possible to articulate in fiction the life stories of these three persons who are shaped by different migration experiences in the broadest sense: the story of 9-year-old Bashir growing up as a member of the third generation of immigrants in his Arab family in Berlin-Neukölln, of 70-year-old Michael, who as a former PR manager suffering from manic depression had lived in West-Berlin, and of the middle-age trans person Vince.

In Feizabadi's films, the Laylas and Majnuns experience time as a painful intermediate space in which past, present and future brutally clash instead of uniting in a healing manner. Yet in the non-linearity (uchronia) of the narrative time, Feizabadi, by making and share painful experiences with a pithiness that activates the retelling of stories as a possible healing process.
Nina Tabassomi
On the occasion of the group exhibition
STORIES OF TIME at Taxispalais Kunsthalle Tirol
Writer, Director: Azin Feizabadi
Production: Maximilian Haslberger, Amerikafilm
Cast: Michael Lewitscharoff, Elisabeth Helene Simon, Bashier Abou-Essah, Lina Erdogan, Vince Tillots, Ignazio Caporrimo et al.
Narrator: Jasmin Tabatabai
Director of Photography: Carlos Andrés López, Carlos Vasquez
Gaffer: Catalina Fernández
Music: Amen Feizabadi
Kamancheh Performance: Saba Alizadeh
Production Design: Merle Vorwald
Editor: Stephan Bechinger, Mohammad Abdel Gawad, Azin Feizabadi
Make-Up Artist: Nuria De Lario
Sound: Jaime Guijarro Bustamante,
Kai Ziarkowski, Simon Konrad
Sound Design: Jaime Guijarro Bustamante
Research and Assistant Director: Giorgi Gago Gagoshidze
Production Manager: Viktoria Stolpe, Caroline Kirberg
Funded by Medienboard Berlin- Brandenburg, Einstein Stiftung, Graduiertenschule der UdK Berlin, KKWV & Amerikafilm GmbH
Multi-channel installation version supported by Stiftung Kunstfonds Neustart Kultur 202
Pisces, August 2018
Short story in reference to UCHRONIA,
printed in
After Cinema
2019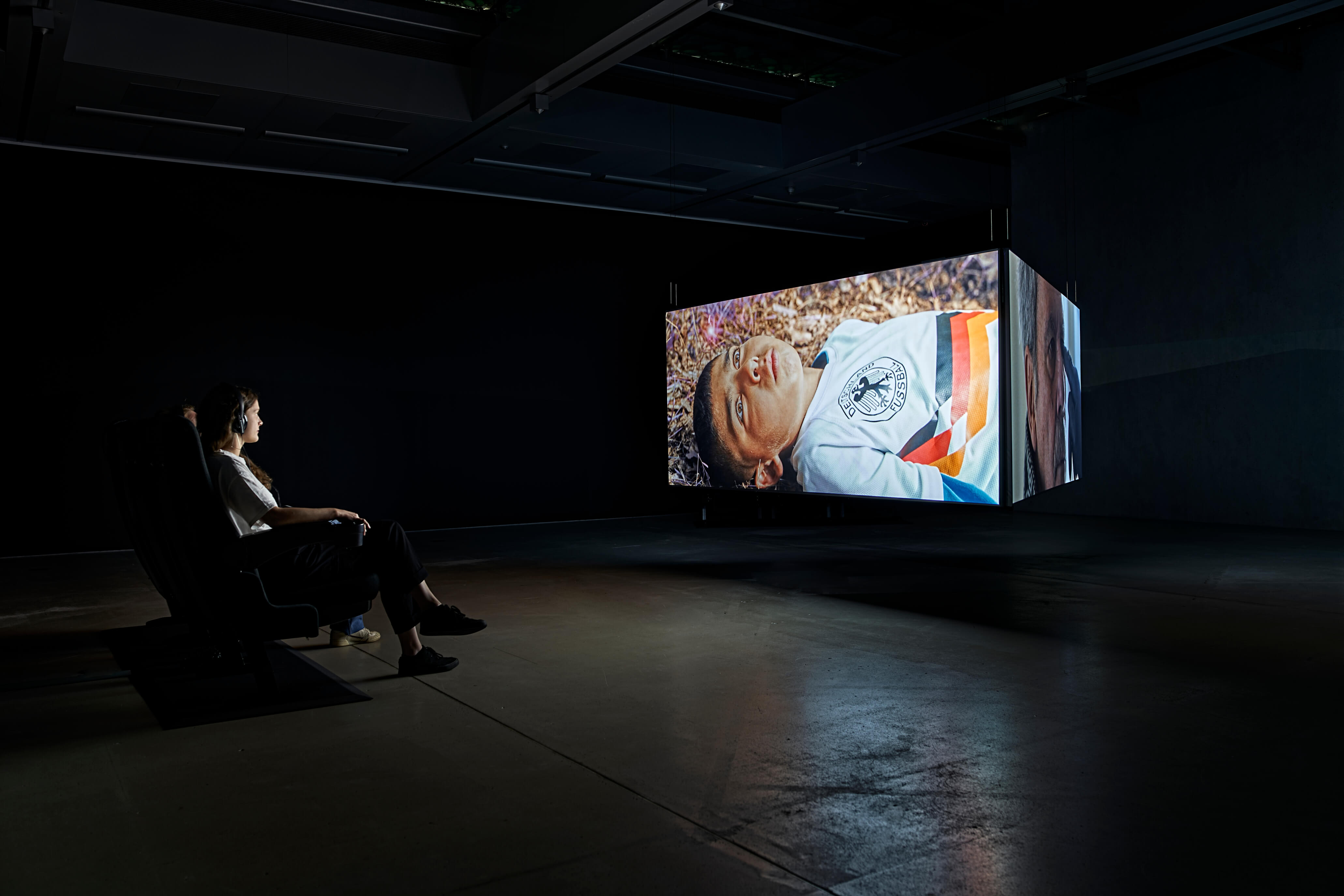 Photographs: Günter Kresser
آذین فیض آبادی